I picked up the new
Interweave Knits
yesterday. I have seen much to-do over Eunny's Tangled Yoke cardigan. I have to say it didn't impress me that much. It's nice, but it seems too precious for me. I am a woman who loves her bolds and brights. My hubby says I'm like a crow. If it's shiny or bright, I want it. But I digress.
I did like the Dickinson Pullover.
The big, bold cables look like a lot of fun. This sweater embodies a lovely weekend, comfort level to me.
I also quite liked the sweater on the back cover of the magazine.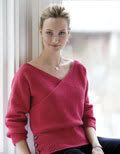 I always like wrap tops or faux wraps. I particularly like the bottom on this one. The fact that it is quite close to the body gives it a nice, fitted look.
But I think the cable sweater would get precedence in the afore-mentioned cue. I am a slouchy, relaxed kind of person, I think. Occasionally I like to get dressed up, but my go-to clothes are pretty much, things that I throw on and go....
And now I am going to go vacuum my house. All three floors. Because it is NOT a billion degrees out, this seems an opportune moment. Besides, if I don't vacuum soon, it will be difficult to distinguish the cats from the dust bunnies.
Ciao